OLDER GODS by Wagyu Films (UK FILM STUDIO / FILM PRODUCTION COMPANY)
OLDER GODS -
A Lovecraftian descent into madness.
After the disappearance of his troubled friend, American Chris Rivers travels to the remote Welsh countryside to investigate what happened – leading him to a dark apocalyptic cult.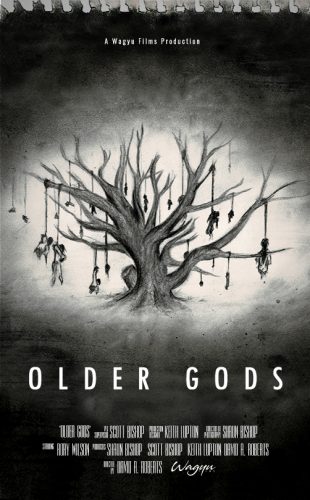 The film is now available to purchase and rent on Amazon and all other great VOD platforms.
CAST: Rory Wilson, Ieuan Coombs, Lindsay Bennett-Thompson and Jonathan Keeble
DIRECTOR: David A. Roberts
PRODUCERS: Scott Bishop, Shaun Bishop, Keith Lupton, David A. Roberts
DIRECTOR OF PHOTOGRAPHY: Shaun Bishop
PRODUCTION DESIGNER: Keith Lupton
VFX & POST PRODUCTION COORDINATOR: Scott Bishop
ART DIRECTOR: Andrew Sexton